An End To The Mess Of Shaving.
Shaping up that facial hair at home is a total mess - blocking the plug, and it goes all over the sink and floor. And to top it all off, there's always SOMEONE in the house who's constantly your back about a few hairs you forgot to pick up. 
Grooming is a routine task, and needs routine tools. If you're fed up of shaving mess, you need Burts™ Mess-Free Beard Apron - buy once, and reap the benefits of a mess-free bathroom forever.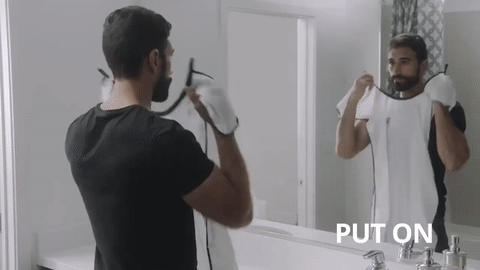 Fear no more, Burts™ Mess-Free Beard Apron is the only men's grooming tool that reduces manual cleanup and allowing you to get on with your day.
FEATURES: 
•
Catches all head/facial

hair from

falling onto your sink

when shaving
•
Made of soft

,

waterproof pongee material

for

comfortable wearing
•
Contains

two easy stick 

suction cup hooks

to 

hold the aprom firmly onto the mirror, sink or tiles!
•
Anti Static Coating means hairs won't get stuck on the apron, it's a simply shake off into the bin and it's ready to protect another bathroom!
•
 Bumper 

Size, can handle the

manliest of beards

:

116cm X 73cm (46in X 29in)