Gone are the days of countless, tangled, ripped USB cables needed at all times, to power each of your beloved, devices. JuiceUp™ lets you charge your phone wirelessly! 
Many Americans are now choosing to charge their phones with a wireless charger because of its simple use and convenience.
Charges mobile devices, smart watches, and earpods! 
Instead of replacing broken wires every other month JuiceUp™ lets you experience durable charging for years to come! 
Wireless chargers have that elegant, modern look which completes any desk. If your phone is wireless enabled, what are you waiting for?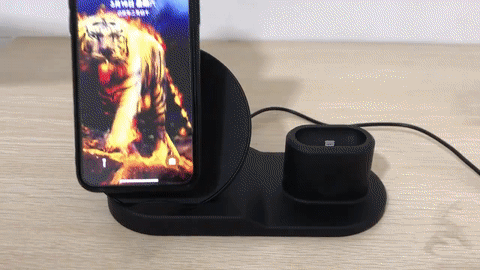 Its stylish functional design easily doubles as a phone holder, allowing you to position your devices both in vertical & horizontal mode for work & play while charging! 
FEATURES: 
Wireless Charging
Specifically made for Qi enabled phones: check the list of phones with Qi Chips via Google! 
Fast Charging
Life long Durability 
Sleek Powerful Design
Charges multiple devices
Made with premium Japanese materials 
PACKAGE INCLUDES :
1 x Official Swiftly Charging Dock Station
1 x Swiftly USB-C Charging Cable