Micro Flashlight Provides Tactical Portable Features for Fast & Easy Access of Bright Light!
Get clear visibility and situational awareness at all times with LongView™ Micro Flashlight. A Portable Mini Flashlight to take on your adventures—land or sea! 
The World's Smallest Flashlight! 
This functional flashlight measuring only less than 3 inches or the size of a pinky finger has a built-in key chain for ease & portability. It's a unique but tactical design becomes a great addition to your tactical kit. 
Small size, but shines many feet away!
With its high-functional light transmittance & optical double-side coated glass, it gives you excellent visibility to a far distance!
Its LED laser beam light can work to prevent fights, send a stress signal, a powerful emergency light, and even a safety tool to disorient attackers! 
Water Resistant & Virtually Indestructible
LongView™ Micro Flashlight is made with a military water-proof & weatherproof aluminum alloy that can withstand 9 feet drop and heavy rain conditions! 
Giving you tactical functionality for every possible situation!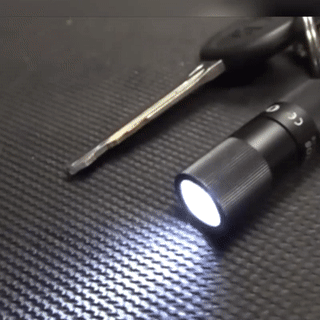 Long-Lasting built-in Rechargeable Batteries
Conveniently built-in with 10180 lithium batteries. You never have to worry about buying multiple batteries. 
Simply charge it when it's empty with the free USB charger --compatible with all power banks, desktop & tablets.
With up to 100,000 hours of usage LongView is built to go the distance!
Countless Wide Range Application 
Use it on camping, fishing, hunting, night bike rides, night swimming, cave exploring, emergency cases, use around the home, or as a safety self-defense tool! 
You'll never run out of ideas. Get yours now! 
Ultraportable with awesome lighting power, all on a keychain to take anywhere!
Why Choose LongView™ Micro Flashlight?
High Lumens - Able to light-up great distances. The LED Light Beam is powerful to cut through darkness!
Stylish Durable Black Aluminium Coating - Great to use for all outdoor conditions. Longview is waterproof for years to come
Say Good Bye to Batteries - It's lithium powered batteries are recharagble and has a total lifespan of 100,000 Hours.
Portable Key Chain - The worlds tiniest flash light has a built in key-chain that allows you to hook it into your pants, belts, bags, etc. for ease of access
More Than Just a Flash Light - This tool can work as a self- defence tool for safety & peace of mind. 
PACKAGE INCLUDES
1 x LongView™ Micro Flashlight
1 x USB Charger