Easy Way to Stay Clear, Tidy & Organised!
Choosing what to wear can often be one of the toughest parts of the morning. Even with so many clothes to chose from if not properly organised, you'll find yourself frustrated trying to find the right outfit!
Bohee Wardrobe Organizer fixes this by neatly packing all your clothes into space saving pockets so you have more room in your wardrobe to see everything clearly.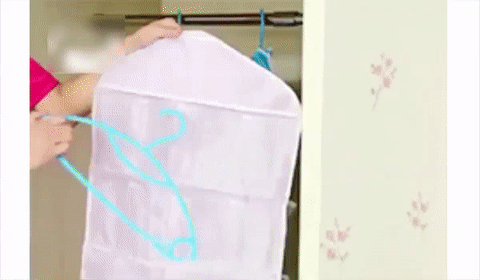 No more cluttered wardrobes & overlooking certain pieces of clothing. Bohee helps you classify your clothing, keeping them tidy so you can clearly decide what to wear!
Simply pack your clothing in the large bags

for a tidy stress free wardrobe

, even

stores other accessories

 such as jewellery, cosmetics, hair straighteners etc... endless possibilities!
Anti static material ensures clothes stay wrinkle-free while saving space for other items hung up in your closet!
Say goodbye messy articles in the closet & limited space. Keep your room and closet tidy & clean with Bohee! 
Comes with 16 grids hanging pockets, it's enough for you to hold socks, underwear, bra, shirts, toiletries, cosmetics etc. 
FEATURES:
Smart Wardrobe Organizer:
Bohee can speed up your routine & is a good assistant in sorting clothes & items into different compartments. Makes it easy to organise & keeps your wardrobe tidy. 
Easy Installation:
With hook design, it is easy to hang it in wardrobe, cabinet or over the door. Bohee is specifically designed to fully utilise your closet space.
Durable & Practical Anti Static:
Premium oxford material ensures durability and practicability. Protects your items from dirt, dust, damp and bacteria. While Anti static material prevents wrinkled clothing.
High Compatibility:
Perfect for home, bedroom, living room, bathroom, study, kitchen, office and so on. Choose one to make your life easier and convenient.
Keep Your Closet organised So You Have A Clearer View, Simplify Your Routine!
PACKAGE INCLUDES:
1 x Bohee Wardrobe Hanging Organizer (16 Pockets)